Anthony Alvernaz, Elmira Police Chief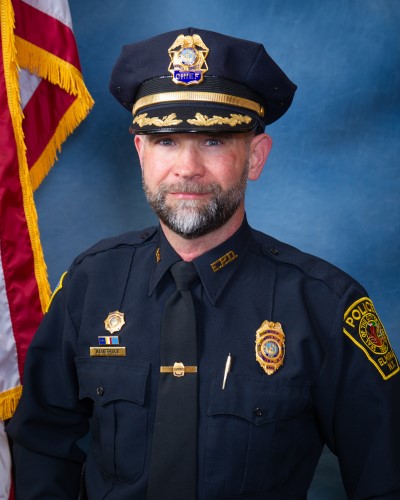 When he graduated from Spencer-Van Etten High school in 1992, Anthony Alvernaz '95 already knew that he wanted to pursue a career in law enforcement. And that goal meant one thing to him: his next step would be heading to SUNY Corning Community College, the regional leader in training in criminal justice and law enforcement.
He has many fond memories of his time at CCC, and remembers the facilities from his time at the College, in which students could learn practical skills in realistic settings. He would enjoy the networking opportunities, meeting many retired Elmira officers who served as faculty at the College. Alongside what he learned in the classroom setting, Alvernaz also gained valuable work experience as a public safety officer for three years, helping to keep the Spencer Hill campus safe.
When he finished his studies at the College, he entered right into the Southern Tier Law Enforcement Academy, and started out as a patrol officer in 1996. Even as he had an active career and increasing responsibility within the Elmira Police Department, he continued advancing in his education, earning a Bachelor of Science degree from Excelsior College and completing the Executive Leadership program at the FBI Academy.
After a steady progression of responsibilities that included Patrol Captain, Detective Bureau Captain, and Deputy Chief, he accepted the role of Chief of Police in July 2021.
His academic and professional pursuits are accompanied by a real appreciation for history – including service as the Elmira Police Department historian. In that capacity, he interviewed many retired Elmira police officers in an effort to recover some of what was lost when the records were destroyed in the 1972 flood. He established both digital and physical archives to document this history. His office décor too demonstrates this penchant for the past, decorated with memorabilia such as an old patrol hat from a century past and an autographed portrait of Peter Falk as Columbo.
In our close-knit community, Alvernaz has continued to find ways to connect professionally to CCC – particularly with Babatunde Ayanfodun, the College's Coordinator of Diversity, Equity, and Inclusion. They served alongside one another on a committee organized around questions of community outreach and engagement. Moreover, Chief Alvernaz has supported Ayanfodun's efforts to offer mentoring opportunities to Elmira City School District students by inviting members of his own force to serve in that capacity. These tangible ties demonstrate the continuity between "town" and "gown" – the community and the College.
While Chief Alvernaz's career stands as a testimony to his own mettle and determination, his loyalty to the College where he began his law enforcement career is evident. Speaking of his alma mater, Chief Alvernaz commented, "Corning Community College is still a proven place to study criminal justice and prepare students in a well-rounded way for a broad range of law enforcement careers."