Ernest "Ski" Hoover '75 and Nancy (LaForty) Hoover '74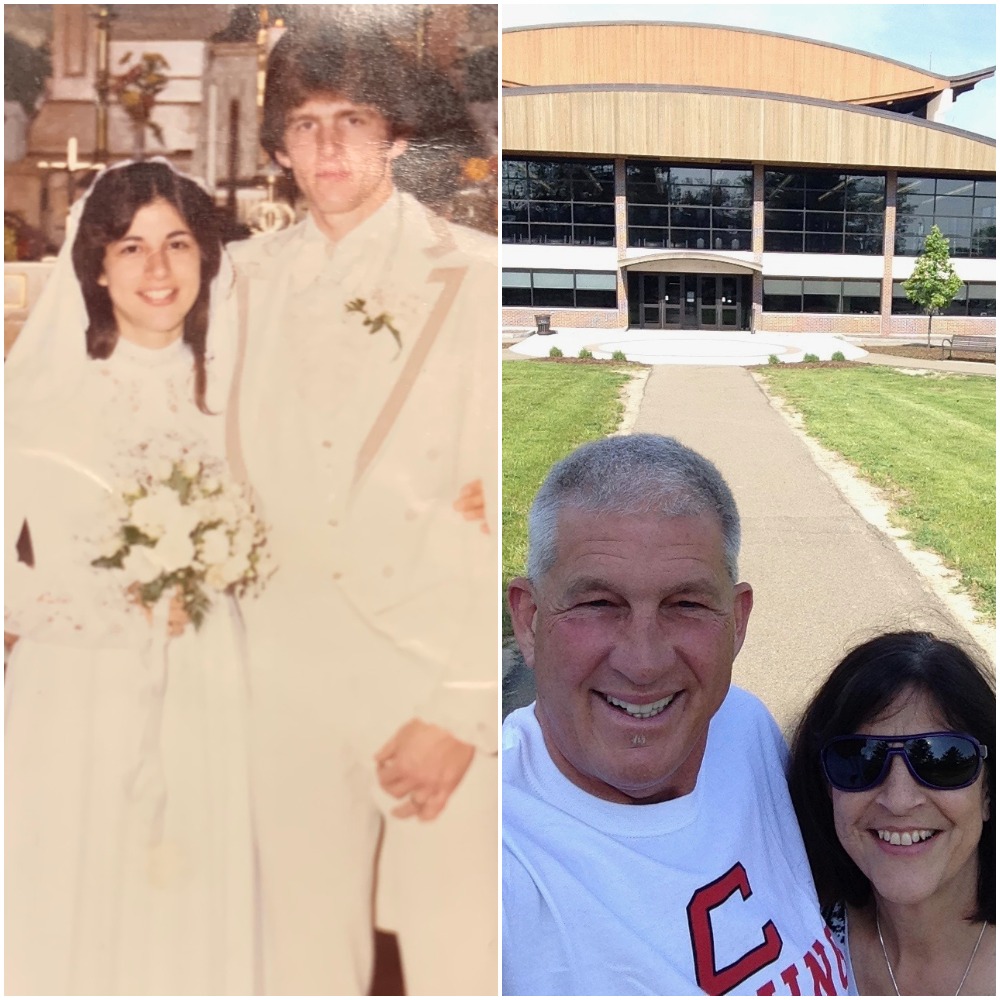 How did you two meet?
"We met on my (Nancy's) birthday, February 10. Vici Washington, our cheerleading advisor, and the rest of the cheerleaders surprised me with a party in the upstairs studio in the rear gym. The basketball team was invited too. Ski and I had seen each other as player and cheerleader before, but had never met. By the next week we were dating seriously!"
When and where did you get married?
"Our anniversary date is November 18, 1978. Our wedding ceremony was at St. Mary's of the Lake in Watkins Glen, and our reception was at the Seneca Lodge - where we both worked in the summer during college and after."
What is your favorite SUNY CCC memory? This may be answered as a couple or individually.
Nancy: "I loved cheerleading and traveling with the basketball team. It was great because we were a family right away. Mr. Buckley would be our chaperone on away trips if Vici couldn't attend. Coach Kenner was wonderful to all of us. After home games, we would all go to the Double E or Landos to dance and just have fun as a group! The classes and professors started me on my career path to become a teacher. Mr. Robert McEnroe helped me choose teaching as an avenue to bring in my love of children, sports and languages. He said 'be an elementary teacher and then you can coach and also teach foreign languages as an after school elective.' That is just what I did! Everyone at SUNY CCC cared about the individual student and were there to support you any way you needed."
Ski: "After the last game I played for SUNY CCC, Coach Kenner pulled me aside and said he was so glad that he had recruited me. It was memorable for me because it showed the confidence and love he had for me. He helped me excel as a point guard, a position I never played in high school. Also, being inducted into the SUNY CCC Hall of Fame in 2017 was a great honor that I owe to Coach Kenner and SUNY CCC for the opportunity to win the prestigious honor."
Nancy: "I fell in love with this cool, amazing, wild-haired basketball player who just happened to be funny, thoughtful, and a romantic! We were inseparable at SUNY CCC. We were able to maintain a long-distance relationship as we went on to finish college because our time at SUNY CCC started and cemented our love story."
Ski: "I first saw Nancy in the Commons and it was a 'love moment' when I saw her long black hair, great smile and her beautiful brown eyes. From Day 1 I was hooked."
What does SUNY CCC mean to you today?
"SUNY CCC represents family to us. It was a growing period for both of us. We were so lucky to have such wonderful people to influence and nurture us. SUNY CCC gave us the best foundation not just academically, but for life. The people of SUNY CCC were there for us during our time, but after we graduated: Coach Kenner, Robert McEnroe, Neil Buckley, Vici Washington, Kathy Bourgealt, Mary Lee and Woody Knowles."
What does your life look like now?
"We moved to Saratoga Springs, NY, in 1985 and have lived here ever since. Today, we are both retired and enjoying life! We love to travel, watch our grandchildren, and host big dinners and picnics with family and friends! Nancy spent 36 years as a teacher in Watkins Glen and Saratoga Springs, and Ski worked for the NYS Department of Corrections for 25 years and currently works part time for Saratoga National Golf Course. We have three wonderful sons, two lovely daughter-in-laws, and four beautiful grandchildren. Our son Erik and his wife Liz are both teachers, and are parents to Ben, Kevin, and Anna. Our son Troy works as a graphic designer and his wife Amy works as a nutritionist, and they have a one-year-old daughter named Nina. And finally, our son Tim is a Logistics Manager for ASML."
Please share some advice for couples that you've learned through your own relationship.
"Love each other well by allowing each other to have free time and interests, being able to talk and vent as your work through problems/pressure together, laughing together, looking forward to seeing each other at the end of the day, always remembering why you fell in love and making time for romance."