Paul E. Swarts, Jr. '01 and Catie (Ingraham) Swarts '02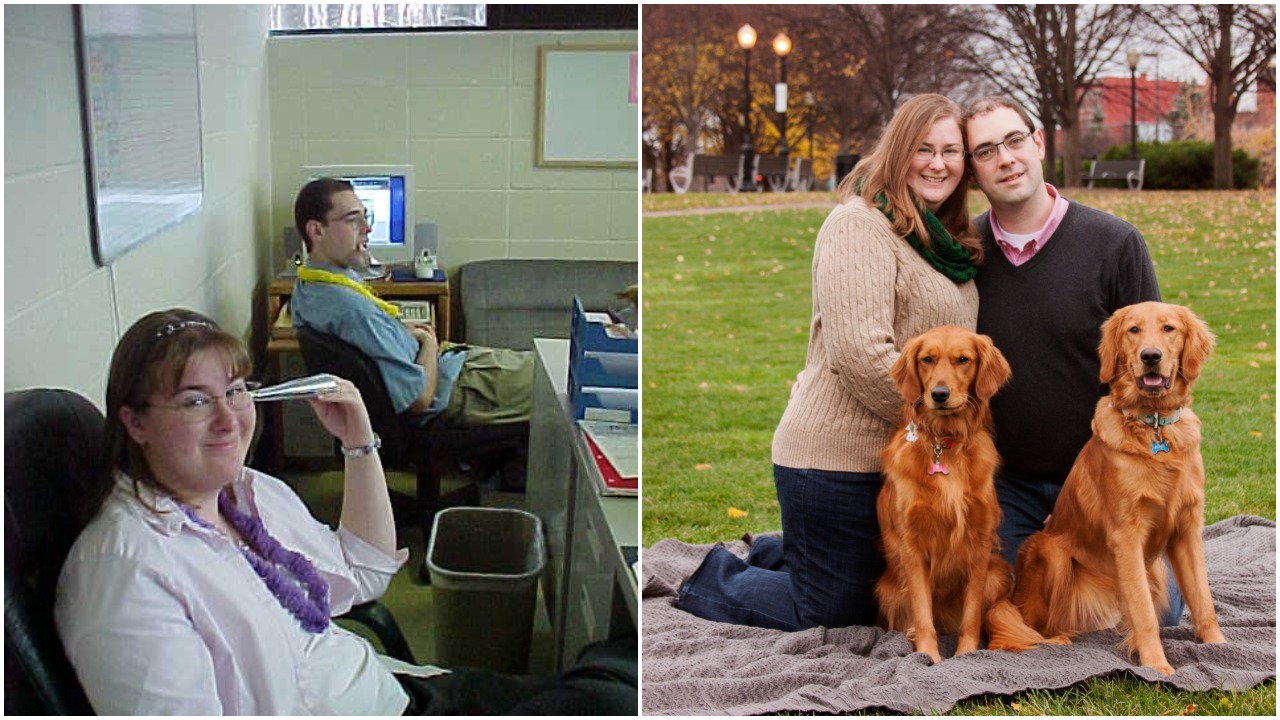 How did you two meet?
"Paul was on the Student Association Executive Board and Catie was a member of The Crier. There was a birthday party in the Executive Board Office and Catie met Paul that day (November 15, 2000). We even have photos of us from that first day. From that day on, we were inseparable and either The Crier office or the Executive Board office, where we hung out with two of our other friends from the Executive Board (Jamie Allen and Brian McIlroy) who we are still friends with today."
When and where did you get married?
"May 31, 2008 at the Victory Highway Wesleyan Church. We had our reception in The Commons at SUNY CCC!"
What is your favorite SUNY CCC memory? This may be answered as a couple or individually.
"Paul asked Catie out on a first date to the Leonid Meteor Shower viewing at the Planetarium on Campus. While the professor never showed up that evening to let everyone into the Planetarium, a budding romance began between Catie and Paul, and Paul kissed Catie there for the first time."

Tell us your love story.
"After meeting in the Executive Board Office on SUNY CCC's campus, we began dating and Catie introduced Paul to her family. They adopted him immediately and he didn't run away (Catie's family is pretty intense). Sadly, the relationship was tested when Catie's brother passed away just a couple months after they started dating. Additionally, Catie and her family brought her infant nephew home to live with a few months later and this was another hurdle to the relationship. Paul stuck by Catie through this difficult time, and that's when she knew that he was the one. After completing our undergraduate degrees, we both knew it was time to get married and we were thrilled to find out that we could celebrate our wedding reception at SUNY CCC where our love story had begun."
What does SUNY CCC mean to you today?
"SUNY CCC is the most sacred place for us. Every decision we made from the time we were 18 years old has been influenced by our time at SUNY CCC. It's not only where we met, but it's where we met our lifelong friends, forged civic values from our time with the Student Association, and celebrated our marriage. We maintain close relationships with some of our advisors from the college and think very fondly of our experiences there, both separately and as a couple."
What does your life look like now?
"We enjoy our home in the city off Corning with our two beautiful Golden Retrievers, Pixel and Atari, who have a very busy social life. Paul works for Corning Incorporated and Catie works in the education field."
Please share some advice for couples that you've learned through your own relationship.
"Don't compare your relationship to other relationships. If it works for your relationship, then it works."