Ronald Ross '72 and Deanna (Jacoby) Ross '72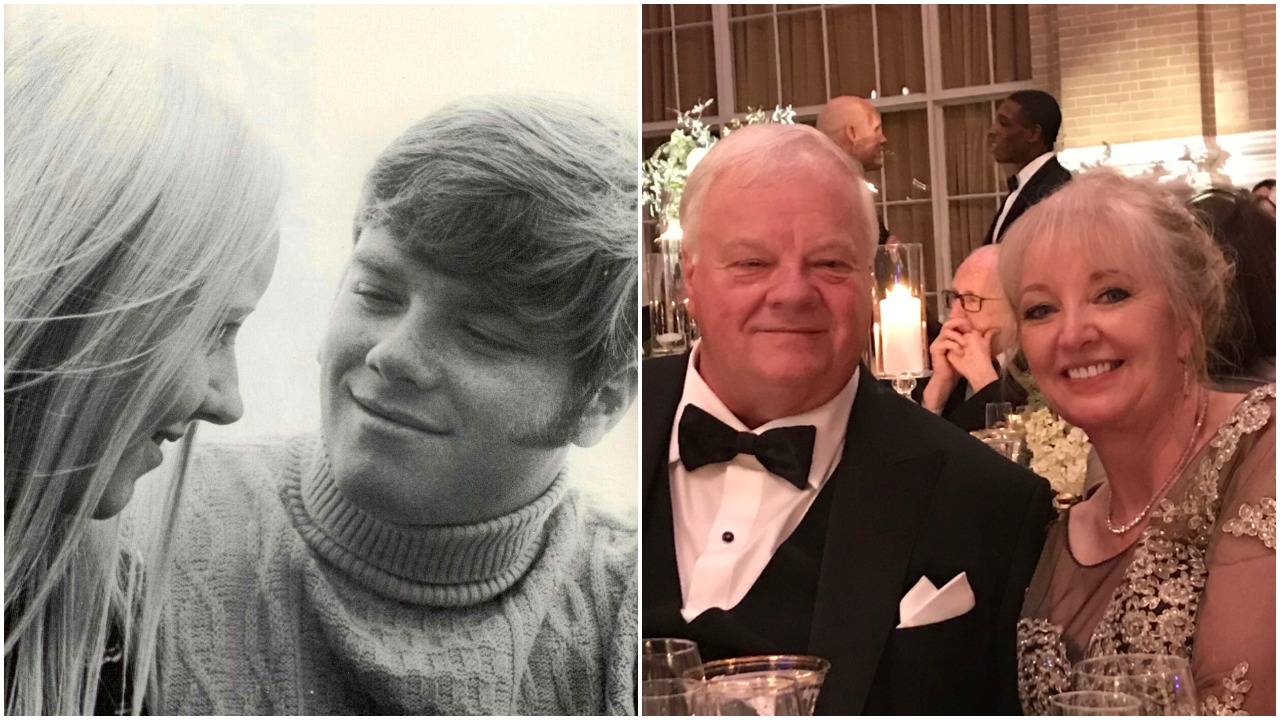 How did you two meet?
"We met in the SUNY CCC Scuba Club at the Corning Glass Works Swimming Pool."
When and where did you get married?
"We were married on January 15, 1972, in Painted Post, NY."
What is your favorite SUNY CCC memory? This may be answered as a couple or individually.
Deanna: "There were many favorite memories at SUNY CCC, but the best of all has got to be the day Ron very abruptly asked me to marry him. We were on campus one afternoon out by the old gym."
Ron: "The same as Deanna. Thankfully, she said 'YES!!'"
Tell us your love story.
Deanna: "Dangling my legs in the water at the Corning Glass Works Swimming Pool, Ron walked up behind me and asked, 'what are you doing your English term paper on?' I turned around and saw a tall, good looking guy standing behind me. I thought my ears were playing tricks. Was he talking to me? I almost couldn't answer, I stammered and stuttered and finally managed, 'Helen Keller and the Education of the Blind.' Next question, 'Do you type?' My heart sank. It was very clear; he needed someone to type his English Term Paper. All those years of typing classes paid off. I happily typed his papers all the way through college and graduate school. Ron still doesn't enjoy typing much, and I still enjoy doing it for him when he asks."
Ron: "I was the lifeguard; she was the damsel in distress. End of story."
What does SUNY CCC mean to you today?
"SUNY Corning Community College is now and always has been the foundation for wonderful beginnings. Where its students go from there is up to them. I'm sure we can't count how many futures SUNY CCC has changed forever. What a wonderful institution."
What does your life look like now?
"We live in McKinney, Texas, and have lived here for nearly 30 years. We both miss the beautiful autumn season up north and come back as often as possible, especially during Penn State football season. We miss seeing the first snowfall too, but have become accustomed to the easy way of life and mild temperatures of Texas.
We have four children and six grandchildren, all of whom live close by. We are so blessed. Ron started and sold several companies during his career and although trying to retire, remains Chairman of the Board of SRS Distribution and sits on several other Boards. For fun and relaxation, we own a small ranch and winery north of Whitesboro, Texas, near the Red River where we raise exotic deer longhorn cattle as well as many other ranch animals like a white buffalo. In addition to the ranch and winery, we own a small wine tasting room in Historic Downtown McKinney that our daughter manages. It is the exclusive distributor of the Ranch Wines. We travel some but our favorite place to travel is back to our old stomping grounds in Upstate New York where we always enjoy warm sunny days in Keuka Lake."
Please share some advice for couples that you've learned through your own relationship.
"Giving advice to a young couple today, we would remind them that you only get one shot at a 'forever' relationship. Together you can conquer anything."