Deborah Dann
Professor
Contact:
Phone: 607.962.9316
Email: dann@corning-cc.edu
Office: Schuyler 219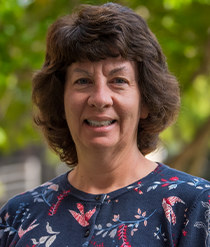 Education
Penn State University, Geoscience, M.S.
Penn State University, Astronomy, B.S.
Teaching
I enjoy talking about science with anyone who is willing to listen! My students are my audience. I love to talk with them about the world around them so they have a better understanding of the planet on which we live. I particularly love it when students come to me and say "I saw this on TV," or "I saw this on the Internet." It makes me feel like they are interested, too! I have loved science since I was a child, and I like to communicate that enchantment to my students.
My favorite class to teach is ASTR 1020 because I can use both my astronomy and geology background when talking about the planets in our solar system. I have been teaching ASTR 1020 online for several years and that adds another layer to my enjoyment of teaching!
Courses

Elements of Astronomy, The Solar System, Physical Geology, Environmental Geology, Historical Geology, Physical Sciences
Professional Development Interests
I have given talks for the Elmira-Corning Astronomical Society.
Professional / Community Organizations
Elmira-Corning Astronomical Society
Geological Society of America (GSA)
American Geophysical Union (AGU)
National Association of Geoscience Teachers (NAGT)
The Planetary Society
Awards
SUNY CCC Regional Board of Trustee Excellence in Teaching Award, 2013