Michael Gwin
Assistant Professor
Contact:
Phone: 607.962.9214
Email: mgwin1@corning-cc.edu
Office: STU331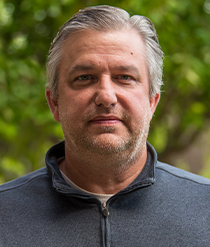 Education
SUNY Buffalo, Mechanical Engineering, M.S.
SUNY Buffalo, Mechanical Engineering, B.S.
Teaching
My original plan was to obtain my PhD, write textbooks and teach. Well as they say, "Life is what happens while you're making other plans!"

30 years later, I am finally following a career path in academia. I hope that my vast experience in industry will allow me to bring a "real-world" context to what is taught in my classroom.

My mindset is that students are the customer, and they are here to learn. It is my job to teach them.
Courses
MECH 1050 Engineering Graphics I, MECH 2210 Materials
Professional Background
30 years of industry experience in engineering and manufacturing

For the last 20 years I have been with AIS (Advion Interchim Scientific) a manufacturer of mass spectrometers.
For the last 10 years at AIS I served in a senior management position as the Director, Manufacturing for North America.

For the first 10 years of my career I was with Corning Inc. and held various engineering, project management, and manufacturing plant management positions.

Experience includes robotics/automation, product design, 3D CAD, capital project management, manufacturing and senior leadership.