Matthew Haas
Instructor
Contact:
Phone: 607.962.9218
Email: haas@corning-cc.edu
Office: Chemung 123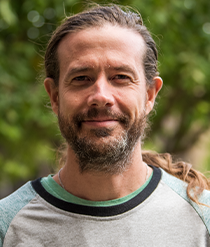 Education
Elmira College, Graduate Certificate in IT Management
Elmira College, General Education, M.S.
SUNY Geneseo, Computer Science, B.A.
Corning Community College, Computer Science, A.S.
Teaching
I am addicted to that unmeasurable, qualitative joy when a person experiences that moment of enlightenment- some connection being made, some further grasp of the abstract or indirect, that empowers the student to further utilize their mental faculties to drive their own path forward, eventually learning how to learn. Online teaching (async, remote) is by and far my preferred and optimal way of teaching: it places self-responsibility on each and every student for their learning, and those who don't waste the opportunity, often reach higher heights of awareness and deeper distances of progress. For my in-person classes, I strive to convince students that learning asynchronously, online is the optimal way forward, often by showing them how just physically showing up in a room and doing nothing else doesn't yield the success nor the satisfaction that a genuine learning experience provides.
Courses
C/C++ Programming, UNIX/Linux Fundamentals, Data Structures, Discrete Structures. C for Engineers, Computer Organization, System Programming