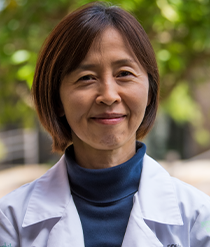 Education
State University of New York, College of Environmental Science and Forestry; Biology, B.S. and M.S.
North Idaho College, Forestry, A.S.

Teaching
The fact that we share this planet with diverse groups of living things inspires my teaching. I believe that it is our joy and responsibility to learn and understand ourselves and others to coexist on this planet. I enjoy being in the classroom to share what I know with my students and stimulate their curiosity.

Teaching online gives me opportunities to do so with students who seek more flexibility to take courses. My introductory biology – food science is an online course. Students study chapter materials, work on online interactive homework, and lab simulations. Besides regular assignments such as exams, they also work on a project creating a new recipe, evaluate others' recipes, research food related topics, discuss with each other for given topics, watch a movie about food we eat and what they do for our body, etc.

I enjoy all courses that I teach. I particularly enjoy teaching how living things are connected and change over time and interact in ecosystems.
Courses
General Biology I & II, Into to Biology - Food Science, and Natural Science - Chemistry/Biology Module
Professional Interests
Eriko has had extensive educational and research training in ecology, evolution, population genetics, and molecular systematic.
Eriko grew up in Japan and has traveled to several countries. She lived in Australia for three years – her favorite group of animals is marsupials. She has been living in the United State (several different states) over twenty years now.
​Eriko worked in the animation industry in both Japan and Australia before she switched her interest to becoming a biologist. She eventually found joy and her niche in teaching biology and has been enjoying doing so ever since.