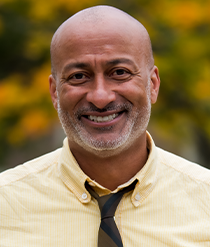 Education
SUNY Cortland, M.A.
University of Rochester, B.A.
Teaching
I teach immediately with excitement and trepidation. I teach as a proud historical globalist.
Courses
Latin American History, American History I, American History II, Comparative Politics, Modern Africa, African American History, Middle East and Islam, Contemporary World Affairs
Publications and/or Conference Presentations and/or Professional Projects
Catch me on Youtube, Southerntierlife.com, live Zoom classes and anywhere consequential discussions are held.
Organizations
Involved in numerous organizations in the community
Awards
In my first year of eligibility I was FOTY. I was also 8th grade male vocalist of the year and the inaugural recipient of the Ernie Davis memorial scholarship in 1989.